The Honolulu 735 L Se Special Edition Spa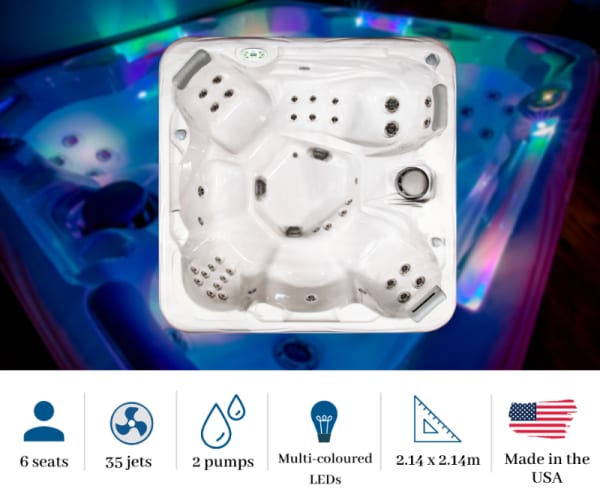 New!
The Honolulu 735 L Se Special Edition Spa
Contact Us
The Honolulu 735 L SE Special Edition Spa
The Honolulu comes in a all seater model and a lounger model , see below pictures
End every workday with style and hydrotherapy..
This spa has big features but will fit indoors or out, in small spaces, or larger areas.
DESIGN YOUR SPA
SPECIFICATIONS
Seating Capacity 6
Size 214 x 214 x 91 cm
Jets 35
Pump 2 = 1 x 2 speed 1 x single speed
32 Amps
From £6995
INCLUDED AS STANDARD
Water Features
PillowFall - Let the warm water flow over your neck and shoulders for the ultimate in relaxation
Neck & Shoulder jets - Treat yourself to the ultimate neck and shoulder massage with these revolutionary jets, melting away tension and pain in a matter of minutes.
Whirlpool Jet - The powerful jet provides a continuous water movement effect.
Massage customisation - You can customise your massage with the spa's diverter
This system allows you to move the water pressure from one side of the spa to the other and anywhere in between.
Full foam insulation - Full Foam provides the maximum level of insulation for your spa.
Aesthetics
LED Multi Colour Lighting - Saturate your spa with your favourite colour or slowly fade from colour to colour for a spectacular light show.
Premium Stainless Steel Jets - Luxury accents and corrosion resistant.
Green Technology
Ozone - Water treatment providing crystal clear spa water by killing bacteria with fewer chemicals.
Arctic Pac Insulation - This double layered insulation system features a reflective lining on the inside of the cabinet, combined with icynene foam that adheres to the spas shell and hose connectors.
This insulation retains heat, keeping the spa energy efficient and the water at a tropical temperature.
Maintenance-Free Cabinet - Synthetic cabinets that are resilient and durable. Unlike wood, these cabinets will not crack, chip , warp, or rot and , best of all , no trees are needed!
PROTECTING YOUR SPA
ABS Base - Sealing the bottom of your spa with the ABS base to protect your
spa from the elements.
Spa Cover - Deluxe safety cover provides industry leading insulation and protection
UPGRADE OPTIONS AVAILABLE
Artesian Bluetooth Musical experience -Stream music from your smart phone , or ipod - Am / Fm receiver
4 marine grade speakers and subwoofer
Grab Rail - In addition to the steps this can help those unsteady on their feet, get in and out of the hot tub safely - includes a 360' handle so it can be used inside and outside of the tub

BESPOKE ORDER UPGRADES
Shell and Cabinet Colours- This Hot Tub comes as standard with a Silver Marble shell, Java Cabinet and a Walnut Cover additional colours available but may incur additional costs and a wait time of 6 weeks
Marine-Grade Bluetooth Stereo - Upgrade to the deluxe bluetooth marine-grade stereo for a fantastic wireless in-spa music experience.
Contact us for upgrade prices
Delivery prices are subject to site inspection prior to deposit payment
25% deposit confirms your order , the balance is due 5 days prior to delivery
Warranty - Structure 12 yrs - Surface 3 yrs - Electrical 2 yrs - 2 yrs plumbing, 1 year labour Cabinets 2 yrs
This Special offer price comes in Silver Marble shell - With Antique cabinet and a black cover - other colours available on a order in basis