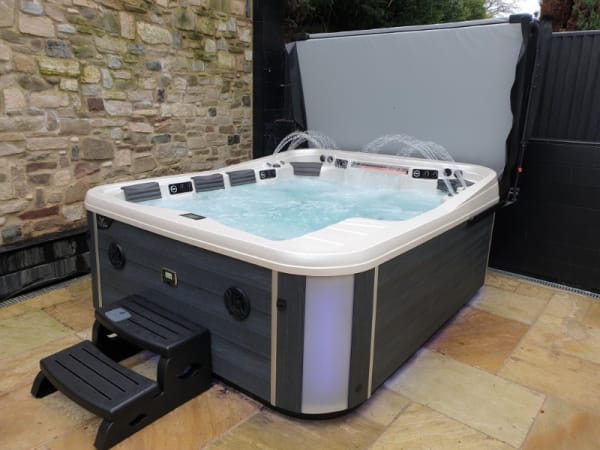 Pelican Bay Platinum Elite Class Therapeutic Spa
This 71 high-performance jetted spa is astonishing and offers the most space of any Elite spa.
The ultimate therapeutic spa experience – designed with large families and entertainment in mind.
9-seat layout providing top of the range luxury and comfort, without sacrificing therapy or performance.
SPECIFICATIONS
Seating Capacity 9
Size 275 x 232 x 108 cm
Water Volume 1,912 L
Weight (dry) 549 kg
Jets 71
Pump 1,and 2 - 24hr circulation pumps
Pump 3,4,5,6 and 7- 3.0 BHP
INCLUDED AS STANDARD
Curved shell design measuring 108cm at the back and 93cm at the front of the spa
Stainless Steel H2O PowerFlow Jet Design
Dual Foot blaster Jets
Stainless Steel Accents
DynaBrite LED: (1) 5 in. LED Light, (5) 2 in. LED Lights, Backlit 24″ Allegro Fall and (4) Bellagio Falls
Patented Direct Flow® Personal Control Technology
Advanced Digital Touch Control System with Artesian Smart Control Pack: Touch Screen, Colour LCD Display, 3 Zone Lighting ready, WiFi Ready (module required) and Multi-language Interface
Diamond AOP Water Treatment System
Morbern 5 in. Maximum Tapered ASTM Cover
Full Foam with PermaBase ABS Pan
WhisperPure™ Circulation System with Microfilter
Monarch Cabinet
Titanium Heater: 3.0 kW
WARRANTY
12 Year Structure, 7 Year Surface, 3 Year Parts, Labour, Plumbing and Electrical, 2 Year on Monarch Cabinets, and 1 Year on Stereo and AOP Systems
UPGRADE OPTIONS AVAILABLE
Stereo System:1) BBA Fully Integrated Bluetooth Sound System: 4 x 2" Polk interior speakers and sub-woofer
2) Premium Polk Sound System: 4 x 2" Polk interior speakers, Bluetooth, Radio AM/FM, and Power sub-woofer
3) 2 x 6.5" Polk Patio Speakers (only available with Premium Polk Stereo System)
Midnight Glow Lighting System: 4 x Corner Cabinet Lights and 360° Skirt Lighting (N/A on Rock Cabinetry)
Spa Frog System: In-Line Sanitisation system for cleaner, clearer and softer spa water (bromine and water conditioning cartridges not included)
Worldwide Wireless Spa Control App: Control your spa from your smart phone or smart device from anywhere in the world
Rock Cabinetry
Delivery / install to PO SO postcode (delivery charges to other postcodes may apply )
Please note - we ask for a 25% deposit to confirm the order and the balance is due 7 days prior to delivery