Isla Margarita Island Spa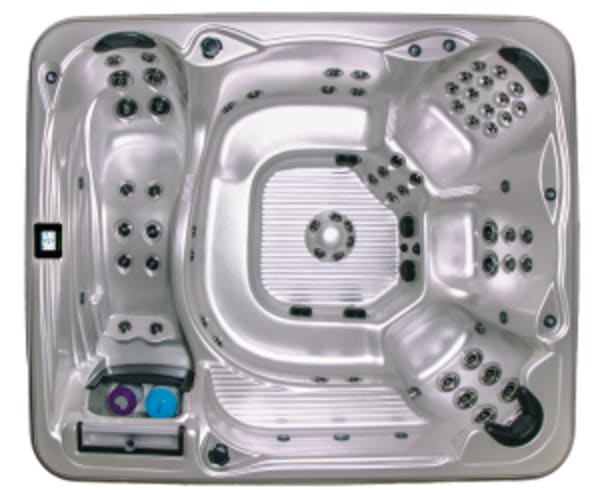 Isla Margarita
Island Spas
9 seater
The Isla Margarita is a spacious family spa with 71 powerful jets and seating for up to 9 people . It features a circular bench moulded seamlessly into the organic spa design. It also features hand massage tracks integrated into the hydrotherapy seat and lounger to target reflexology points that rejuvenate tired hands and boost circulation.
SPECIFICATIONS
Seating Capacity 9 - 1 lounger 8 seats
Dimensions - 2.74 x 2.32 x 92 cm
Water Volume - 2082 L
Weight (dry) - 454 kg
Weight (filled) - 2536 kg
Adjustable Helix Jets - 71
Pumps - x 3
Lighting - Dynapoint Multicolour
Full foam - Yes
Heater - 3 kw
Amps - 32
From £
INCLUDED AS A STANDARD FEATURE
Adjustable Helix jets
Dynapoint Multi LED Lighting - Exclusive to Island Class. A wonderful multicolour LED light show consisting of 4 small in-spa lights, 1 large light, cabinet lighting, light up tranquility waterfall, light up Island topside control panel and lighting to the optional Pillowfall.
Whisper Pure 24hr circulation system
Smart Touch Screen Control Panel
Tranquility Waterfall - Exclusive to Island Class. Listen to the soothing sound of falling
water while you relax with a powerful massage.
Neck and footblasters
Insulating Spa Cover - The foam cores are virgin, polystyrene foam, that is tapered from
4 inch to 2.5 inch to allow water to run-off.
Superior Plumbing and Construction - Our spas are built from the ground up to the highest standards.
We start by building our frames using only pressure-treated lumber on top of a full ABS base.
Ergonomic Design - When designing our spas we don't use the latest 3D modeling software – in fact, we don't even use a mouse. We use such blunt instruments as chisels, sand blocks, files, and putty knives to create a fluid and stylish design that conforms to the body perfectly
Circulation System - Filters 30 gallons per min. Water is sanitised more than 100 times a day
OPTIONAL EXTRAS
World wide wirelsss spa control app for smart phones - Harman premium infinity media stereo inc floating remote and Harman trim patio speakers 6.5 "
BBA Fully Intergrated Bluetooth sound system
Artesian bluetooth music experience with radio
Dynabriote lighting
Backlit Pillowfall
Microsilk
Ozone
Diamond AOP
Spa Frog inline system

Warranty
12 yrs - structure
5 yrs - Surface
2 yrs - parts plumbing and cabinet
1 yr - Stereo Ozones and AOP
Please contact us for upgrade prices
Please note - we ask for a 25% deposit to confirm the order and the balance is due 7 days prior to delivery
Delivery prices are subject to site inspection prior to deposit payment