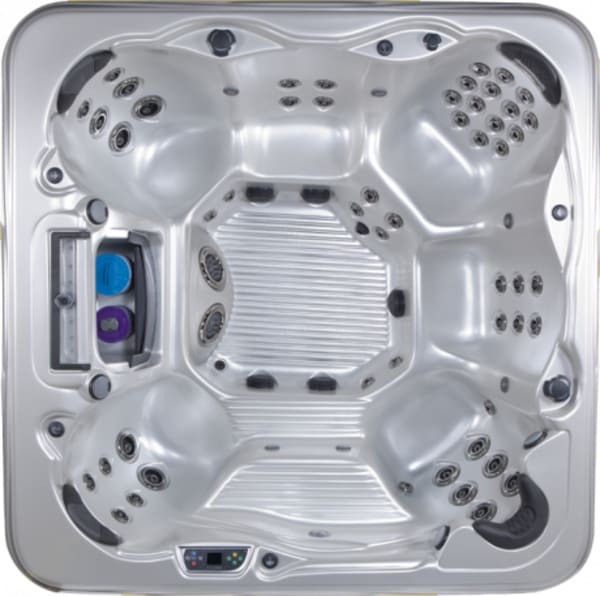 Grand Cayman Island Spa
The Grand Cayman gives you plenty of reasons to relax alone or with friends and family.
With multiple jet arrangements and open seating, this Island spa is designed for you and your guests to enjoy together.
The two corner swivel seats allow users to elevate their feet and get not only a back massage, but side muscles and arms as well.
SPECIFICATIONS
Seating Capacity 7
Size 91" x 91" x 36" 231 x 231 x 91cm
Water Volume 475 gl 1,798 lt
Weight (dry) 800 lbs 362 kg
Weight (filled) 4,760 lbs 2,159 kg
Jets 46 - 3 Pumps
From £10,695
Jets 61 - 4 Pumps
From £12,495
Power Req 230 V 13 or 20 AMP
INCLUDED AS STANDARD
Tranquility Waterfall - Exclusive to Island Class. Listen to the soothing sound of falling water while you relax with a powerful massage.
Insulating Spa Cover - The foam cores are virgin, polystyrene foam, that is tapered from 4 inch to 2.5 inch to allow water to run-off.
Superior Plumbing and Construction - Our spas are built from the ground up to the highest standards.
We start by building our frames using only pressure-treated lumber on top of a full ABS base.
Ergonomic Design - When designing our spas we don't use the latest 3D modeling software – in fact, we don't even use a mouse. We use such blunt instruments as chisels, sand blocks, files, and putty knives to create a fluid and stylish design that conforms to the body perfectly
Circulation System - Filters 30 gallons per min. Water is sanitised more than 100 times a day
DynaPoint Lighting System - Exclusive to Island Class. A wonderful multicolour LED light show consisting of 4 small in-spa lights, 1 large light, cabinet lighting, light up tranquility waterfall, light up Island topside control panel and lighting to the optional Pillowfall.
Please contact us for upgrade prices
Please note - we ask for a 25% deposit to confirm the order and the balance is due 7 days prior to delivery
Delivery prices are subject to site inspection prior to deposit payment