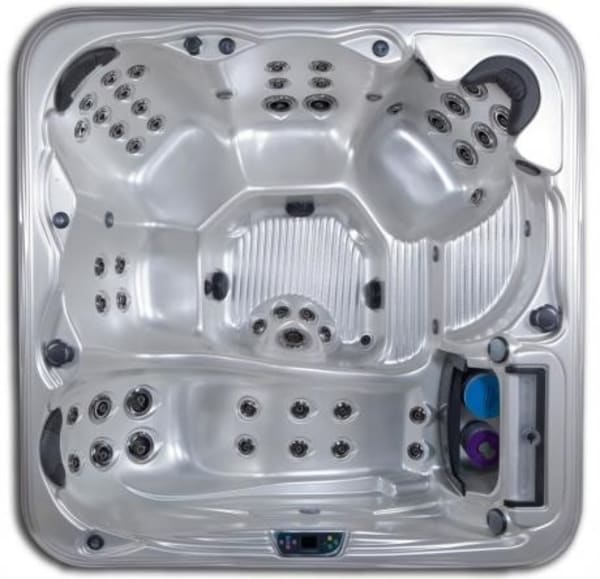 Antigua Island Spa
Hydrotherapy has been shown to revitalise body and mind, help heal injured tissue, and relieve aches and pains.
You can enjoy the end of every workout in your Antigua spa, as the hot water and massaging Helix jets soothe strained muscles and rebuild tissue, even after a particularly strenuous session.
This spa provides your own personal lounger, along with seating for family and friends.
SPECIFICATIONS
Seating Capacity 6 - 1 Lounger, 4 Seats and 1 Double Cool Down Seat
Size 213 x 213 x 91 cm
Water Volume 1,419 lt
Weight (dry) 383 kg
Adjustable Helix Jets 33
Pump 1 and 2 6hp
Pump 3 24hp Whisperpure circ pump
From £8495
Power Req 230 V 13 or 20 AMP
INCLUDED AS STANDARD
Smart control LED panel
Full Foam
Tranquility LED Waterfall - Exclusive to Island Class. Listen to the soothing sound of falling water while you relax with a powerful massage.
DynaPoint Lighting System - Exclusive to Island Class. A wonderful multicolour LED light show consisting of 4 small in-spa lights, 1 large light, cabinet lighting, light up tranquility waterfall, light up Island topside control panel and lighting to the optional Pillowfall.
Please contact us for upgrade prices
Please note - we ask for a 25% deposit to confirm the order and the balance is due 7 days prior to delivery
Delivery prices are subject to site inspection prior to deposit payment